To investigate consumer acceptance of the iFLEX concept, the project has conducted a public survey in the three pilot countries. The results show a general positive attitude towards offering energy flexibility and using iFLEX to manage it, as long as it does not conflict with comfort and the feeling of being in control.
The concept of a digital assistant that can help people manage their energy consumption flexibility in an easy way presupposes a willingness to adjust one's energy consumption and an interest in investing in a digital solution to do so. To measure the level of willingness and interest, iFLEX launched an online questionnaire that was distributed in the three pilot countries: Finland, Greece and Slovenia.
The primary focus of the survey was to assess consumers and prosumers' key motivations for offering their energy flexibility, what they would prefer to do and how. A total of 1.280 completed questionnaires were collected, with the results showing an overall positive reception of the iFLEX concept and the idea of offering energy flexibility – on certain conditions.
What motivates you
Motivational drivers for offering flexibility were divided into the categories: "Save the world", "Save money" and "Told to do it". Not surprisingly, "Save money" was the dominant motivator and applied to nearly all respondents as did "Save the world". In fact, there was only an insignificant difference between these two drivers.
"This shows that when designing incentives, both aspects should be considered; people may be motivated by a variety of drivers and depending on the context, one driver may be stronger in some situations than in others," explains Trine F. Sørensen, Senior Consultant at In-JeT ApS.
The results on motivational drivers were similar across all three sites, even though the characteristics of the respondents differed notably with regards to age, employment, household composition, dwelling type and size.
What to change and how to manage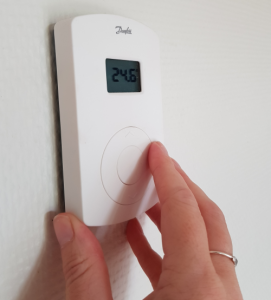 In terms of what energy consumption to change, the respondents were more inclined to choose the options that did not conflict with comfort or convenience. Additionally, the feeling of certainty and being in control determined how the flexibility should be managed on a daily basis: The respondents were more open towards allowing a digital assistant adjust the energy consumption in the home (around 70 %) than allowing an external party adjust it remotely (50-60%).
Similarly, the respondents prefer a solution that combines manual and automated functionalities indicating that while respondents are positive towards providing energy flexibility and using smart automated solutions, they ultimately want to remain in control.
"The balance between comfort and convenience versus saving money and contributing to a clean energy transition (save the world) is essential and subjective," concludes Trine F. Sørensen.
Investing in technology
The willingness to invest in technology solutions such as a digital assistant differed between the countries. While many respondents in Slovenia and Greece (around 70 %) would invest in technology that can help manage the energy consumption, this was not as favoured by the Finnish respondents (around 50%).
"We can only speculate as to the reasons for this, but it is interesting to note that the Finnish respondents represented a much older age group compared to the Greek and Slovenian ones, which could suggest that the older age group is less interested in investing in (new) technology," explains Trine F. Sørensen.
You can access all survey results and other validation results from the first year of iFLEX in the deliverable D7.5 Pre-pilot deployment and validation. Scientific publications based on the survey results are also being planned and will feature in the Publication section, once available.